Taking a trip to Korea isn't easy, especially when you're under a budget or just don't like to travel… But what if I told you there are ways that you can actually see and meet your biases in person? With Korea's small geography, it's not entirely impossible to meet your biases 😏
WWK is here to help you fulfill your dream of meeting your favorite idols through these tried and true methods & tips, all for under your budget!
1) Attend Concerts
Okay, this method may not be considered falling under your budget, but Korea is the best place to attend KPOP idol concerts because they are hosted very frequently and are hosted not only in major cities but elsewhere too like in the countryside.
For those with the budget to attend these concerts, we definitely recommend this as a great way to experience your favorite songs live and up close. However, for those who don't have as much of a lenient budget, we recommend these other methods below.
2) Attend Live Music Shows
If you're broke like me but still want to see idols perform live, we definitely recommend registering for spots to attend live music shows. Yes, these music shows host the live performances that you can find easily on Youtube, but actually being there is whole experience in itself.
You can register for spots for popular music shows like Inkiyago, M Countdown, Music Bank, The Show, and more! The best part? They're free admission! But the competition for these spots is tough, but not impossible. Here's a totally helpful guide on how to register for music shows depending on their broadcasting station: Read More.
3) Visit Entertainment Company Headquarters
This is where your idol stalking skills will come in handy. Just kidding, but if you're really dedicated to seeing and meeting your favorite idols, be prepared to do a lot of staking and camping out near entertainment company headquarters.
This is the hotspot for encountering idols because if you're lucky, you'll get to see the idols under their respective labels' headquarters walk in and out of the building. And if you're really lucky, you'll be able to interact them and even give them gifts or take pictures with them!
4) Eat At Idol Owned Restaurants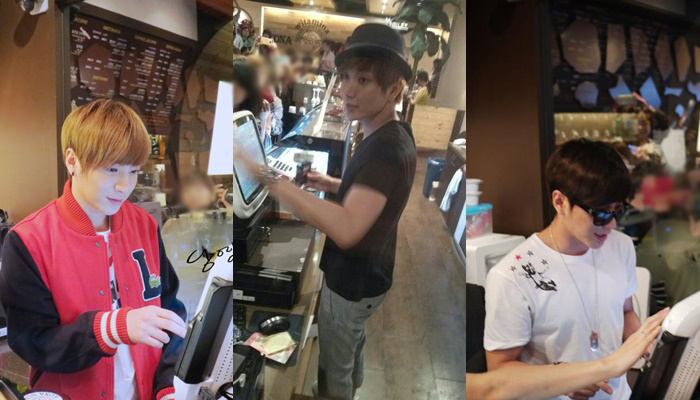 Many celebrities are known to own restaurants & cafes as an endeavor in their career or just for fun! And surprisingly, idols own their own establishments too.
Not only will you get to experience the food handpicked by your favorite idols, but you may be able to meet them as well.
Popular idols such as EXO Chanyeol and Kai, 2AM Changmin, BLOCK B Zico, Big Bang Seungri and G-Dragon, Super Junior members, and more all have known establishments. Taking a trip to these establishments would be the perfect place to go with your friends!
5) See Rising KPOP Stars Perform On The Streets Of Hongdae
Hongdae is a great place for many people to showcase their talents, and it's a place where you can see rising KPOP stars perform on the streets for "guerilla concerts". Many rising KPOP stars tend to do guerilla concerts on the streets so that they can attract potential fans and raise awareness of their group.
So if you want to see the next BTS or the next IU, make sure to check out the numerous talents on the streets of Hongdae.
6) Attend Fan Signs
Fan signings are probably the best way to meet and interact with KPOP idols. Through this, you can get their autograph, have conversations with them, and even give them thoughtful gifts if their management allows.
There are two ways to get access to fan signings and meets, either through lotteries or a first-come-first-serve basis.
For lotteries, every album you purchase = one lottery ticket. From then, winners for fan signings are announced through the store's website or through official Daum cafes.
Another way that entertainment groups go about fan signings are through giving the spots to the first batch of fans who have purchased an album at a certain time.
Make sure to regularly visit idol group or entertainment companies' official websites or cafes for announcements regarding new fan signing events. Because though they take place frequently, they're not the easiest to get into.